Thrive Creative - 21 Day Journey for the Feminine
FACILITATED BY BEE BOSNAK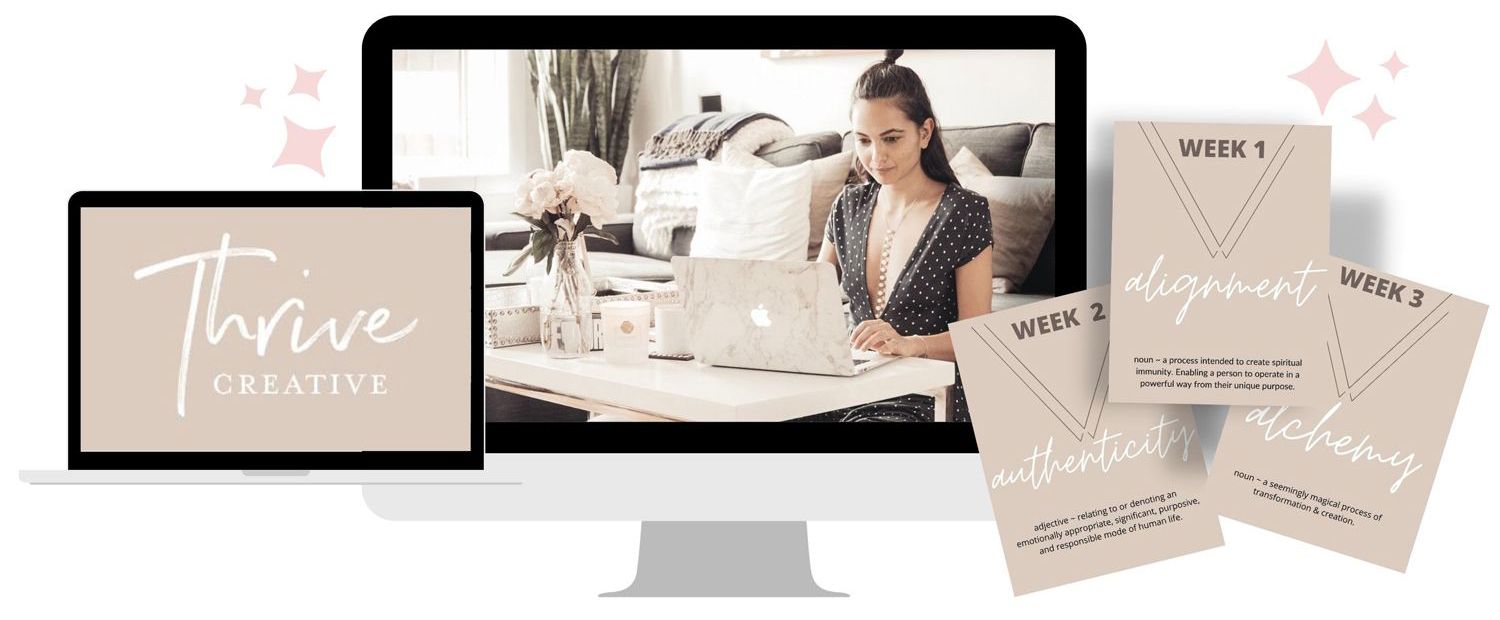 SOLD OUT
Course coming soon | Join the waitlist to be the first to know
Whether you're a spiritual teacher, entrepreneur, therapist, artist, healer (the list goes on), you're creating from the wellspring of the feminine.

The feminine within you and the feminine of the Great Mother.
The Great Mother is the all-pervading force of creative energy living within the Earth and Universe. The vessel where magic and imagination resides. The chalice where the divine masculine gathers his spark to bring creative energy into manifest form. Together, the divine feminine as vessel and divine masculine as spark come together to create the world into being.Normal text.
In this 21 day workshop, you will uncover what the feminine craves and needs in order to birth what is within her essence. And once birthed, how to nurture, nourish and expand her. For this alchemy to take place, you will need 1,111 seconds a day to connect with the feminine and hear her calling.

The number 1111 is the code for activation, or the wake-up call that transcends the feminine from the "good girl" archetype to the "wild woman" who embodies herself unabashedly and unapologetically. It is in this archetype that we are reminded the darkest paths are the deepest spiritual surgeries we must usher through to get to the other side.

This workshop starts on the Harvest Full Moon. This phase of the moon cycle symbolizes ew beginnings, coming after hard work and dedication. We all need a little extra light to see the fruits of our labour.
We must stir things up within our own being, especially the narrow corners and cul-de-sacs of the psyche in order for us to create a new internal world.
I look forward to hosting you for 21 days of creativity, contemplation and reflection.
"I'm almost sad it's coming to an end soon bc it's very hard to find a place where others hold that space for you to bond with others bc of your vulnerability. I've definitely become more self-assured and stronger in my mindset about pursuing the things that make me happy and using my story to bond with others. Thank you for this BB."
SARA
"It begins…the creative is a piece that has been closed off for me. Learning about energy and where it is stuck…right now working deeply w the sacral and learning how closed/stuck/stifled my creativity has become. Grew up wide open, artistic and playful, where did this go? Reconnecting and ready to allow it to help me "thrive" in ways I don't know yet."
MEREDITH
HOW DOES THE WORKSHOP WORK?
Each day at 8am Eastern Daylight Time, you will be sent an email with a specific topic to work on. Following that, the you will be invited into "The Classroom" which is a private Facebook group page where creative conversations will be held. Each morning after the email, I will pop on there to facilitate the conversations. To close up our intimate and sacred time together, on the 21st day, a LIVE Q/A Thrive Session will be held in the classroom.
WHO IS THIS WORKSHOP FOR?
This is for the feminine who is ready to uncover and discover what is hidden within her shadows. Exploring many stories that may hold the feminine back in her business, such as imposter syndrome, not enough syndrome, and the deadliest... perfectionism as well as many more that will be explored with integrity together.
WHY 21 DAYS?

It takes a minimum of 21 days for an old mental image to dissolve and a new one to gel.
WHAT DO I NEED FOR THIS WORKSHOP?
Internet connection. A blank journal/notepad and 1,111 seconds a day.
WHAT ELSE WILL THIS WORKSHOP COVER?

Approximately 3/4 hours per week, this includes our Strategy vs Shadows | Clarity vs Competition | Progress vs Perfection,
AND MORE....

HOW MANY MODULES ARE THERE?
There are 3 modules:
WEEK 1: ALIGNMENT
noun ~ a process intended to create spiritual immunity. Enabling a person to operate in a powerful way from their unique purpose.
WEEK 2: AUTHENTICITY
adjective ~ relating to or denoting an emotionally appropriate, significant, purposive, and responsible mode of human life.
WEEK 3: ALCHEMY
noun ~ a seemingly magical process of transformation & creation.

WHAT IF I CANNOT ATTEND LIVE?
You do not need to attend LIVE for this workshop. You can go at your own pace as there is no such thing as being "behind."

WHAT IF I AM NOT CREATIVE?
Oh yes you are...

I'm the spiritual SHE'EO behind the Heal Yourself Method and the Thrive Mentorship Program. You want to know more about me, right? Here's my story...
I grew up in a culture of scarcity where nothing was ever enough and I felt trapped. So, I crafted a plan, one that would take me across the world to a far distant land: the USA. People laughed at me for what they called "a ridiculous plan," but I knew I had to prove them wrong. Especially their disbelief of me not being able to succeed because of being a woman. So I hopped online and found myself a job and a roommate. Phase One CHECK!
Leaving London, UK and being far away, came with all its freedom, including the making of poor decisions. But thankfully, I found yoga in 2010 and with it, myself. A teacher training, a five-year marriage, and a "having it all" period after, I made the decision to leave my comfort zone and follow my heart. I realized I was stuck living a life without purpose or passion. Freedom was my medicine and I was ready to fully heal.
In 2012, I packed my bags and headed towards NYC. Sure I felt scared, after all, I was throwing myself into the unknown. But looking back now, I know I needed to move through the shadows. When I say "I get you" it's because I mean it. I was you. Trying to figure it all out, feeling stuck, and having to overcome life stories that felt like lifetimes. Everything I teach is what I would've loved to have access to when I started doing the work.
After studying many philosophical/spiritual practices as well as shadow work and somatic studies, I learned that healing yourself & healing your business went hand in hand. That's why in 2015, teaching both sides of this as a mentor made a lot of sense to me. Demystifying the business aspect of spiritual entrepreneurship and giving business a spiritual side.

Today, I share the techniques that gave me the courage to speak my truth, transform my wounds, and achieve the mental, financial, and time freedom I now enjoy. Because here's a secret: the more you start showing up for yourself, and heal from a place of authenticity, the more you start thriving.
I built this business from scratch. I am a Turkish born asthmatic girl, who spent her young years in the ER but dreamt of doing the impossible. When I realized no rescue boat was coming for me, I decided to no longer be the victim, but the heroine of my story. I am the first of my family to graduate, to build an online movement, to reach a multiple 6 figure business that seemed unattainable, and to do what I love.
I am a first. What about you? Are you ready to be a first, too?
Created with