Apply now and get invited into my exclusive THRIVE training, where I'll teach you 3 frameworks I personally use to sell and scale my online business.
Disclaimer: No website, huge following, or email list is needed to apply these high-converting frameworks

.
I'm beyond excited to be sharing these techniques with you! And do you want to know what's the best part? It's the first time I'm sharing this exclusive LIVE advanced training. 
I know you're ready to confidently sell your next course/program/offering, so let me offer my help.
as seen in

Being part of building a feminine economy and creating self wealth is a revolutionary act
I know what it feels like, feeling overwhelmed, trying to figure it out, and wishing there was a better way. I get you because once upon a time, I was you. Working harder or teaching more 1-1's won't take you to the point of success you envision. There IS a better way. A way that will fulfill your passion and create self wealth from scratch. There is a specific method that has ultimately helped me shift from surviving to thriving, and now I'm here to teach you. 
NO MORE
Playing it small and living paycheck to paycheck.
Losing time and money to outdated strategies.
Depending on other people to live your purpose.
Procrastinating & (over) planning to avoid failure.
Fearing "doing business" with your talents.
Feeling lost trying to figure it out on your own
Take back your power to deliver the message you're here to share
The worst thing that can happen when you invest in yourself is: you invest in yourself!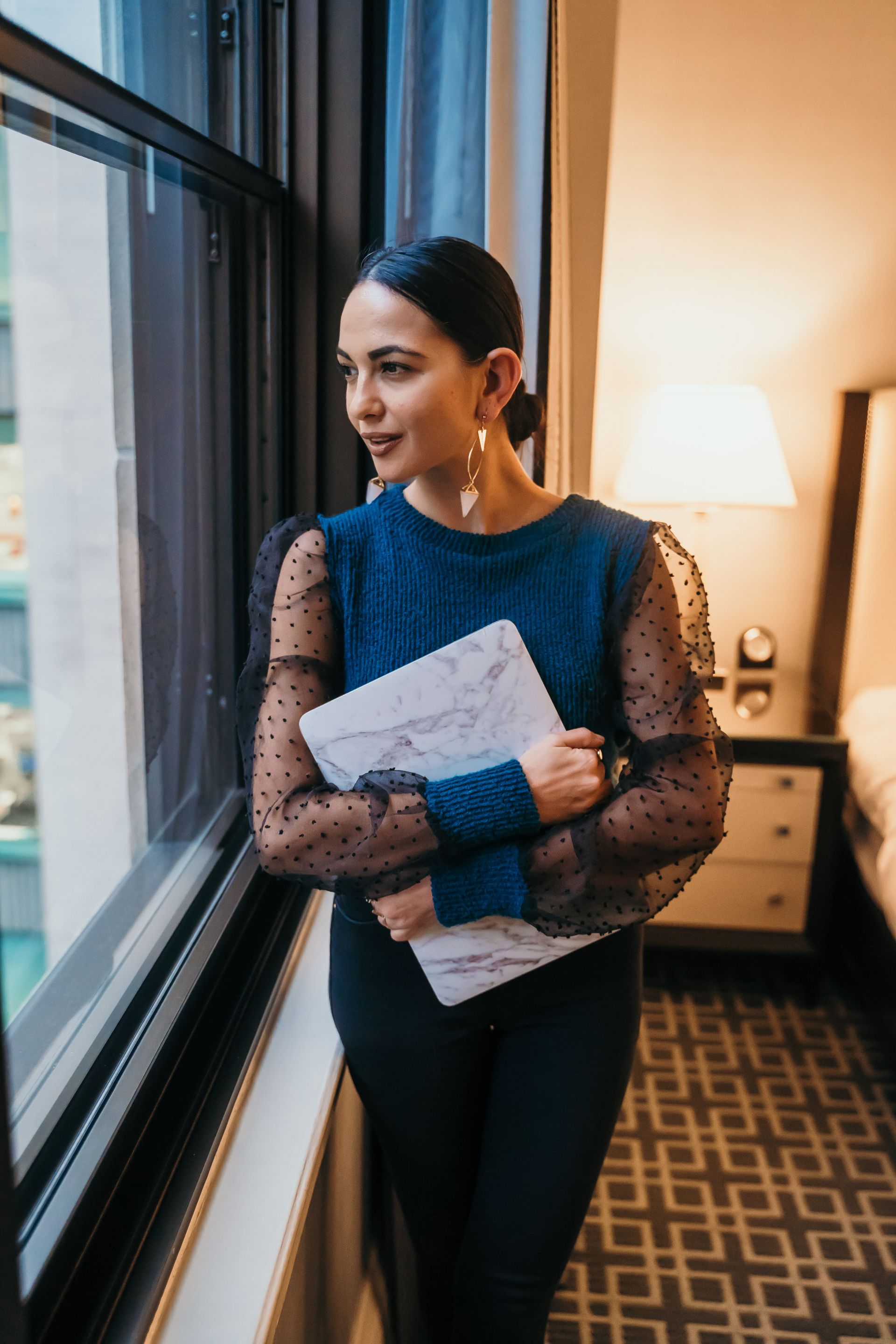 I know you want to live your passion and be successful. But I also know you dream of freedom to actually enjoy life and take the time to smell the roses. But to overcome your fears, stand out, work with your dream clients and grow your online business, you first have to do the inner work. The problem is you don't think you're good enough, and you question if you've got what it takes to "make it." I know this makes you feel hopeless, anxious, and insecure. But trust me, you already have what it takes to thrive and achieve that life. 
I understand it's hard having to do it all on your own, especially when no one else believes in you, but I BELIEVE IN YOU! And soon, with my help, you'll do too.
First, we'll get clear around your WHY and help you know yourself, so you can confidently show up online. Then we will start taking action, crafting the offers, and the lessons you're meant to share. Last but not least, I will help you transform your wounds and failures into your greatest assets, helping you share a powerful message that aligns with your truth.
Apply now if you're ready to stop playing small, losing money, and feeling unfulfilled. Start living the life you deserve, you know, the one that honors your worth and allows you to experience what the world has to offer. 
Use my step-by-step strategy to create a successful online offer.


Overcome adversity & embrace possibility with mindful tools.


Interiorize the lessons your wounds were meant to teach you.

Take back your power to deliver the message you're here to share.

Honor your talents confidently charge your worth.

Heal your relationship with money to create self-wealth.

Embody your purpose & consciously open up to your gifts

Listen to your clients & intuition to align your services.

Structure the foundations to skyrocket your career.
Structure the foundations to skyrocket your career
It's time to STOP playing small and embrace the sublime gifts you have. And it's certainly time to START creating your own self wealth to build a feminine economy, which in itself, is a revolutionary act. 
I know from the outside it can be hard to "see" yourself in your next level self. It can perhaps feel so far away and not your current reality. But I assure you, every single one of the testimonials you are reading right now, started out just like you: terrified to take the leap and make such an investment in themselves.
Our strategies have worked for so many others in your exact situation. I see the potential in you too, even if you don't quite see it for yourself, yet. I wouldn't be inviting you into this experience if I didn't think you had what it takes to learn the work, implement the action and see the results.
We have an element of emotional mastery mentoring in the program, to move through feelings that come up, such as: not feeling ready/good enough/worthy of success. 
HERE'S THE PLAN

Take 2 minutes to fill out the application form and get invited into my exclusive THRIVE training.

You'll receive an email letting you know the status of your application and a clear guide with next steps.

See you in the exclusive LIVE advanced never before seen training. After this masterclass, the decision is ultimately yours!
Meet Thrive Mentee Madison
Founder of Grow Upward
Meet Thrive Mentee Annaliese
Founder of YT Finishing School
Meet Thrive Mentee Catherine
Founder of Empower
Meet Thrive Mentee Sara
Founder of Busy Woman 
What's included in Thrive Mentorship Program
Access to the 8-Week Thrive Mentorship Program & Curriculum

This program is very intentionally designed to be a 8 week container, as it will allow us to create your offering/course/program (or optimize the program you currently sell).

Weekly Group Mentoring Calls with Bee

Each week, we have high level mentoring calls together. This is where we will discuss strategy, overcome emotional challenges, go deep into developing your 6 figure mindset/heartset and fix any issues in your program delivery, your business model and sales. 

Private Mentees-Only FB Group

Connect with the other transformational teachers/guides/leaders/ of this exclusive program, surround yourself with peers who are moving through similar challenges in their online business, ask questions and get support in our private group. You'll meet ambitious friends, network with other experts, and see the inner workings of how to create and run an online business.

The Full Curriculum, Templates/Scripts

Access to all of our resources inside our private portal. Includes access to our templates to give you a foundation to build on.
Modules 1-3
Design a mentorship/coaching program from your soul that is a no-brainer offer for your students and clients. What to include in your program (and what NOT to include), the positioning and the messaging as well as pricing. I will help you structure an offer that is low-maintenance for you, while delivering an amazing experience and transformational results to your students/clients.

Even if you already have an existing mentorship/coaching program, many clients make some impactful tweaks to their program (pricing, timeframe, or delivery) that will make it infinitely easier to sell and deliver. I'll make sure your program is as streamlined and irresistible to attract your soul clients.
Modules 4-5

Deliver your program in a way that doesn't take up all your time. Just because you're offering a group mentorship/coaching experience doesn't mean you should be spending a ton of time delivering it. You can get results for your students/clients without spending all day in delivery (I currently spend about 4 hours per week on my program). I'll make sure your program delivery is streamlined and organized as possible, without having a website, email list or being tech savvy. I will show you why you do not need any of these to begin your program. And if you already do, well that's a bonus. 
Modules 6-8
The ultimate reason for creating a mentorship/coaching program is to transform the lives of your students/clients. They are looking for someone who understand them, has been through what they have been through and can be a conduit to their healing. Whether you are helping them heal their health, wealth or relationships, remember that the value you are giving them is priceless. Embodying this, since your body is always keeping score and telling the truth, will allow you to step into a field of possibility. In return, you will get to do this for your students/clients as you become a mirror for them. 
TWO LIVE CALLS PER WEEK TO MASTER STRATEGY AND EMOTIONS
STRATEGY MASTERY:
Design your own transformational group mentorship/coaching program to be scalable from Day 1.

Determine the messaging, positioning, price point, timeframe and core outcomes of your offer that makes it an irresistible no-brainer.

Design the elements of your unique program - how many calls should you include? What sort of content should be included? What is your special sauce?

Create a program where the delivery does NOT take up all of your time, even though it delivers a transformational experience to your students/clients and gets them incredible results.
EMOTIONAL MASTERY:
Uncover the root cause of what is holding you back. If you have limiting beliefs, ancestral trauma, and unhealed wounds you are working through, you are in the right place. Your business is ultimately your spiritual awakening. 

Amplify the current behind the currency. What stops you from charging your worth? Spoiler alert: this is not a mindset shift that everyone is teaching, this is an embodiment shift.

Expand your frequency into a quantum field where you become the portal of possibility. This does not mean there is no fear, it just means you feel the fear but do it anyway.

Align with your message, which will transform the lives of your students/clients. Once you intellectually understand and emotionally connect to do everything for the message and stand behind it, your message moves the masses.
Apply for the Thrive Mentorship Program
Please take 2 minutes to complete the form (there are 3 questions along with your contact info) so I can learn more about you and see how we can help you thrive in your online business. 



APPLICATION DEADLINE:

 Tuesday, Oct 27th at 12pm EST/6pm CET
I thought I needed a program or be ready, but that was procrastination. I realized that the world needs my message now. So I got out there and no longer was hiding behind my fear. I learned that likes don't buy, and having a huge following does not equal to being profitable. The tough love Bee brought to the table, the honest mirror she held in front of us, and the way she held the group with a constant reminder: "take the action for the result to appear" was powerful. 
Martina Pichler - Vienna
The mentorship program taught me that it is not MY job to think if someone can afford my program/offering or not, but their job. It is so fascinating that I now deeply believe that if a client is ready for my voice and my gifts and if they are truly ready to do the work, they will invest. It doesn't matter if it's $50, $500 or $5,000. Believing in yourself and your work is everything.
ALEXANDER KRITIKOS - BOSTON
The biggest hesitations I had about signing up to the mentorship program was whether it would be worth the investment, especially due to my currency. And whether there were false promises being made. During the program, I stepped out of my comfort zone so many times that I shocked myself. Huge shift are happening for me. For the first time, I am not thinking about money, rather transforming my mindset. It was so worth it!
SENEM ŞEN - ISTANBUL
Abundance becomes the side effect when you heal your relationship with money
The mentorship for me was a soul opener. I see things differently, I see my business differently, my clients, my gifts. So much changed in so little time. Now I know how to ground in my work, and share it consciously and successfully with the world. Nobody starts a business to stay small. 
Cynthi Redhead - Texas
In just a short amount of time I learned 1. Transformational daily habits, 2. How to be a creator and leader, and 3. What it means to fully embody the SheEO
Daphne Lyon - Los Angeles
I was hesitant due to the financial investment, but if I don't invest in myself, no one will. I'm SO glad I did. Second, I was hesitant that I would not fit the program because I didn't have a course plan, I just had an idea. The TMP helped me get clear on how to structure a course from step one until the end.
Maya Odeh - Haifa, Israel
Q: WHO IS THIS TRAINING FOR?
A: This training is for accepted applicants who want to join TMP. You have to apply to be invited. 

Q: HOW MUCH IS THE MENTORSHIP PROGRAM?
A: These details as well as how to enroll will be provided in the invite only training.

Q: HOW DO I FIND OUT THE STATUS OF MY APPLICATION?
A: Once your application has been submitted, it will be reviewed within 24 hours. If your application is accepted, you will be sent details of next steps and access info for the live exclusive training.

Q: WHAT IF I AM NOT ACCEPTED?
A: We ONLY accept applicants we can genuinely help in their business. If your application is rejected, you will have the opportunity to apply again in 2021.

Q: WHAT ARE THE DATES OF THE PROGRAM?
A: The 8-week program kicks off on Sunday November 8th at 10am EST (7am PST/4pm CET). We have two calls per week: strategy mastery calls are on Sundays, emotional mastery calls are on Wednesdays. All call times are 10am Eastern. Replays are posted on the portal within the hour. Program ends 12/27. 

Q: WHO CAN I CONTACT IF I HAVE MORE QUESTIONS?
A: Please email Catie at info@beebosnak.com or DM me directly on Instagram @beebosnak
OUR SIX CORE VALUES
1
COMMITMENT
I need you to want your success and ascension as much as I do. If you aren't committed to ascending and taking quantum leaps, I can't help you.
2
TRUST 
I've been mentoring since 2015. I'm not your "pop up" spiritual business mentor who's just coming into the industry. I've been here for a while.

3
OWNERSHIP
I do not believe in enabling, I believe in empowering my students. I have bold boundaries in place and you will learn how to do this, too. After all, YOU will be holding space for others and need to implement this for your own values. 
4
REALNESS
If you are holding me up on the perfection pedestal, please take me off now. Perfection is an illusion and there is no hierarchy in this program. Simply put, we are co-collaborators.
5
SUPPORT
You must be show up and ask for help when needed. You will receive immense support through the container I curate for you, but I need you to be open to receive. 

6
MINDSET
I'm letting you know now that you will experience setbacks and challenges and you will be required to power through them with my support and mentoring. Letting go of your negative beliefs makes the entire journey so much easier.
Structure the foundations to skyrocket your career
YOUR SUBCONSCIOUS BEFORE THRIVE:
YOUR BUSINESS IS JUST A CONCEPT/DREAM
YOU GIVE YOUR POWER AWAY TO IMPOSTER SYNDROME 
YOU'RE LIVING IN THE GOOD GIRL ARCHETYPE (PEOPLE PLEASING, STAYING SMALL, SCARED OF BEING JUDGED)
YOU FEEL STUCK & LIVE IN A SCARCITY MINDSET
YOU ARE FIXATED ON TECH RATHER THAN YOUR MISSION
YOUR SUBCONSCIOUS AFTER THRIVE:
YOUR BUSINESS IS YOUR SPIRITUAL AWAKENING
NO MORE IMPOSTER SYNDROME 
EMBODYING THE FEMPRENEUR (BOLD BOUNDARIES, SELF WORTH, IN ACTION)
CREATING SELF WEALTH IS YOUR BIRTHRIGHT 
ABUNDANCE IS YOUR NEW NORMAL

I'm the spiritual SHE'EO behind the Heal Yourself Method and the Thrive Mentorship Program. You want to know more about me, right? Here's my story...
I grew up in a culture of scarcity where nothing was ever enough and I felt trapped. So, I crafted a plan, one that would take me across the world to a far distant land: the USA. People laughed at me for what they called "a ridiculous plan," but I knew I had to prove them wrong. Especially their disbelief of me not being able to succeed because of being a woman. So I hopped online and found myself a job and a roommate. Phase One CHECK! 
Leaving London, UK and being far away, came with all its freedom, including the making of poor decisions. But thankfully, I found yoga in 2010 and with it, myself. A teacher training, a five-year marriage, and a "having it all" period after, I made the decision to leave my comfort zone and follow my heart. I realized I was stuck living a life without purpose or passion. Freedom was my medicine and I was ready to fully heal.
In 2012, I packed my bags and headed towards NYC. Sure I felt scared, after all, I was throwing myself into the unknown. But looking back now, I know I needed to move through the shadows. When I say "I get you" it's because I mean it. I was you. Trying to figure it all out, feeling stuck, and having to overcome life stories that felt like lifetimes. Everything I teach is what I would've loved to have access to when I started doing the work.
After studying many philosophical/spiritual practices as well as shadow work and somatic studies, I learned that healing yourself & healing your business went hand in hand. That's why in 2015, teaching both sides of this as a mentor made a lot of sense to me. Demystifying the business aspect of spiritual entrepreneurship and giving business a spiritual side. 
Today, I share the techniques that gave me the courage to speak my truth, transform my wounds, and achieve the mental, financial, and time freedom I now enjoy. Because here's a secret: the more you start showing up for yourself, and heal from a place of authenticity, the more you start thriving.
I built this business from scratch. I am a Turkish born asthmatic girl, who spent her young years in the ER but dreamt of doing the impossible. When I realized no rescue boat was coming for me, I decided to no longer be the victim, but the heroine of my story. I am the first of my family to graduate, to build an online movement, to reach a multiple 6 figure business that seemed unattainable, and to do what I love.
I am a first. What about you? Are you ready to be a first, too?


Sharing your journey with other women amplifies your results. All you have to do is show up, and I'll teach you the rest!
When I wanted to run, Bee helped me stay on track. Especially as someone who had no idea what being an entrepreneur was all about. All I wanted to do was teach. Yet, spreading myself thin with over 20 classes per week finally turned into burnout. With the method I learned in the program, I created a program/course and made my investment in 60 days 6x more. I did this with no website, email list or any knowledge of tech.
PD - CREATOR OF THE 
HEALERS LOUNGE, ITALY
This mentorship program removed MAJOR money blocks that had been planted since childhood. I sold out my healing course, with two launches back to back with NO major following and NO tech. The biggest lesson I learned through this program was my worth, that I have enough all along and that what I have to offer is so needed. I finally stopped playing small and impacted my community. 
SM | CREATOR OF RETURN TO AUTHENTICITY | USA
So glad I came across Bee. I joined THRIVE because I've spent $'s already on courses, webinars, etc. Bee is delivering what works NOW and not what worked yesterday. With no huge following and no talent in tech, I created a program from my story/experience following the methodology and made $9,500 and changed 15 people's lives. The course content is NEXT level, clear and purposeful. Her live calls gave me life. I can't wait for THRIVE MASTERMIND!
MT - CREATOR OF ACTION ACCELERATOR, FRANCE
Created with